Posted on
Posted in Carver Foil, duotone, Easy Foiler, free shipping, hand kite, hand wing, ozone, package, package deal, video, wasp, wing foil, wing surf, wing surfing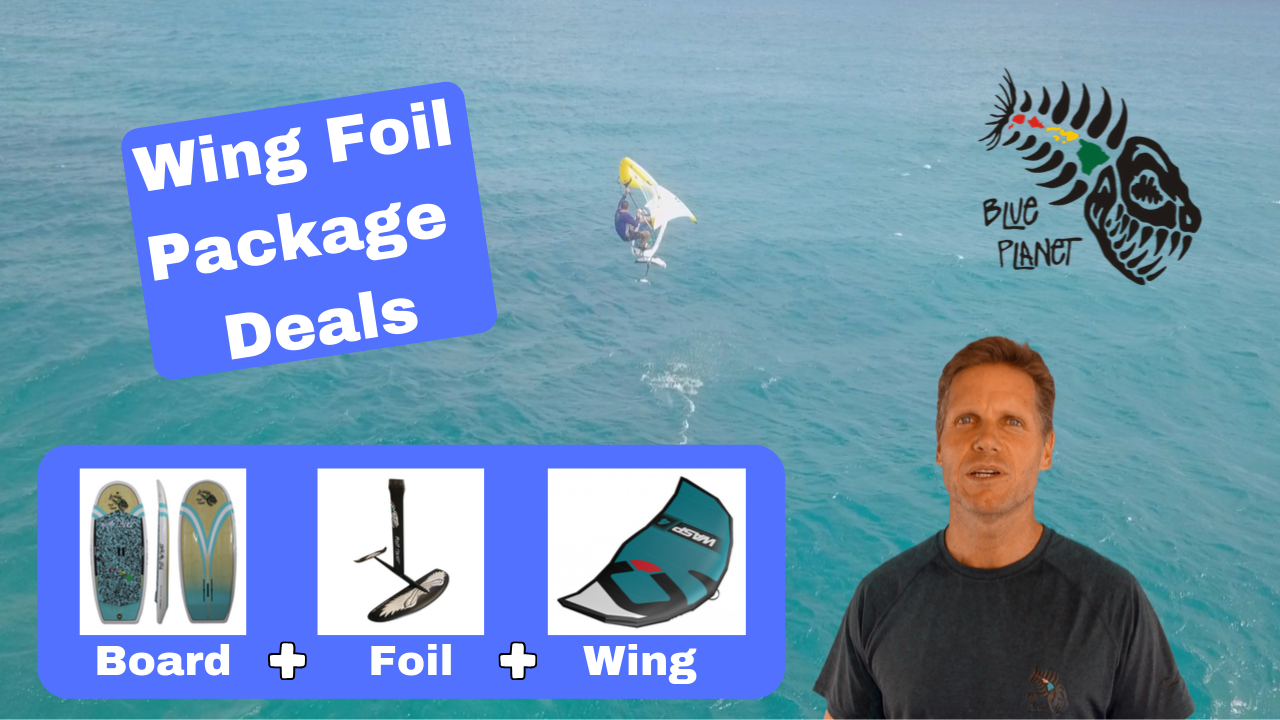 Buy a complete Wing Foil package at Blue Planet and save, please watch​ the video at the bottom of the page.
If you are thinking of getting into wing foiling and don't know where to start, we have a great deal for you at Blue Planet.  Buy a Wing, Board and Foil together and get a great deal as well as free air cargo shipping in the US and select international airports, as well as subsidized air cargo shipping to any major airport in the world.
Build your own package from the components below: please call our shop at 808 596 7755 for color and construction options, pricing and availability.
1) Choose a foil board 
Choose a Blue Planet foil board from the list below (we also offer Jimmy Lewis and Starboards foil boards at our shop)
Models available:
Easy Foiler SUP foil sizes, 2019 colors are on sale at $100 off:
6'0 x 27.5 x 4 x 98L
6'6 x 28.5 x 4.25 x 116L
6'11 x 29.5 x 4.25 x 128L
7'6 x 30.5 x 4.25 x 144L
8'0 x 31.5 x 4.5 x 165L
8'6 x 32.5 x 5 x 195L
2020 Carver SUP Foilboards- expected ship date is late November 2019:
5'2 x 26.5 x 5.1 x 94L
5'8 x 27.5 x 5.3 x 114L
6'2 x 28.5 x 5.8 x 142L
We also have the Easy Foiler prone foilsurf and Carver prone foilsurf boards in stock now.
2. Choose a Foil
Easy Foiler- S, M, L size wings available- full carbon foil at 50% off if purchased with board
Rock Solid Foil- 1300 size at 50% off if purchased with board
2020 Carver Foil- XS, S, M, L, XL wings available- $100 off in purchased with board
Armstrong Foils- 800, 1200, HS1550, 1600, 2400 sizes available-  $100 off in purchased with board
F4 Foils- 1400 and 1700 wings available-  $100 off in purchased with board
3. Choose a wing (get $50 off hand wing if purchased with board and foil)
Ozone Wasp 4M- in stock
Ozone Wasp 6M- expected to ship late November
Duotone 4M- in stock
Duotone 5M- in stock
Please watch the video for more information: