Please note: Due to moving to a smaller location, the pandemic, and the high cost of liability insurance, we sold our fleet of demo boards and no longer offers Surf and Stand up Paddleboard rentals, lessons, or free clinics in Honolulu at this time.  
We do offer SUP, Kayak and Surfboard rentals at our new location in Haleiwa through the Blue Planet Adventure Company, click for details.
We do supply many other independent businesses with high quality Blue Planet rental and lesson boards and equipment,
click here for a list of recommended SUP rental and lesson providers in Hawaii that feature Blue Planet gear
Please watch the video for details and our "try before you buy" program that lets you use any new board in our shop for two weeks and then keep it or return it to us:
We were offering free clinics to customers for over 10 years, this is how it worked: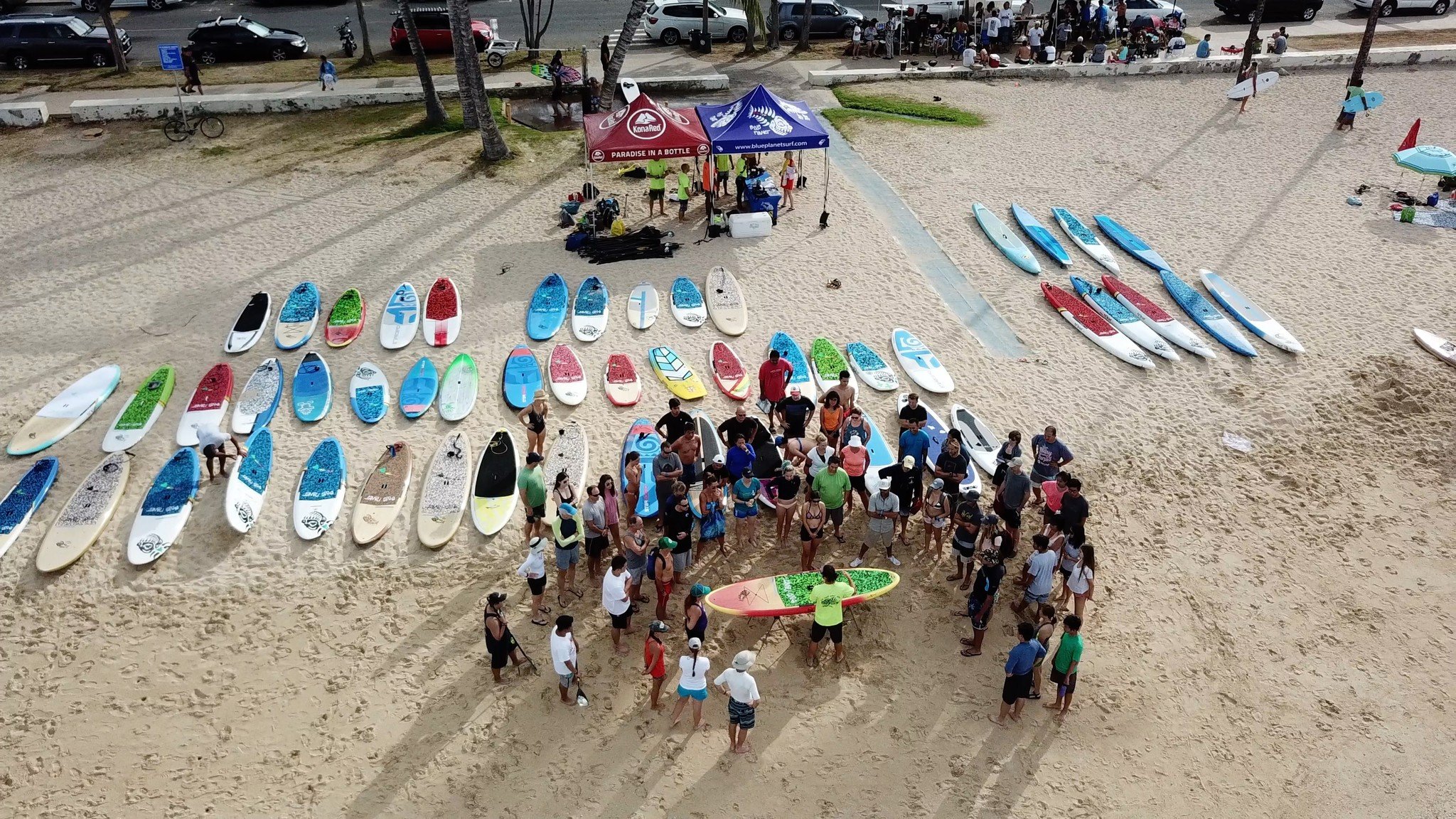 Free SUP Clinic
Whether you're looking to diversify your quiver or get your very first board, choosing the right equipment can be daunting.
At our Blue Planet SUP Clinics, we bring over 50 boards to the beach for demo-ing, to help you find the best equipment for your needs.
Requirements To Participate
Note: We had more participants than we could handle at our last few clinics and we need to limit participation as follows:
1.) SUP Clinic Signup and Pass (pick up clinic pass from shop and sign up for Clinic, you can sign in self + two guests, two free clinics per person, no show counts as one participation, sign up list limited to 80 participants max, must be a BP customer in our database to sign up.  These limits do not apply to customers who have purchased a board from us in the past)
2.) All adults must bring an ID to leave with our staff while participating, all participants must be in good health and be able to swim
3.) Sign in at the clinic before 8am
If you fail to meet all 3x requirements, you will NOT be allowed to join us.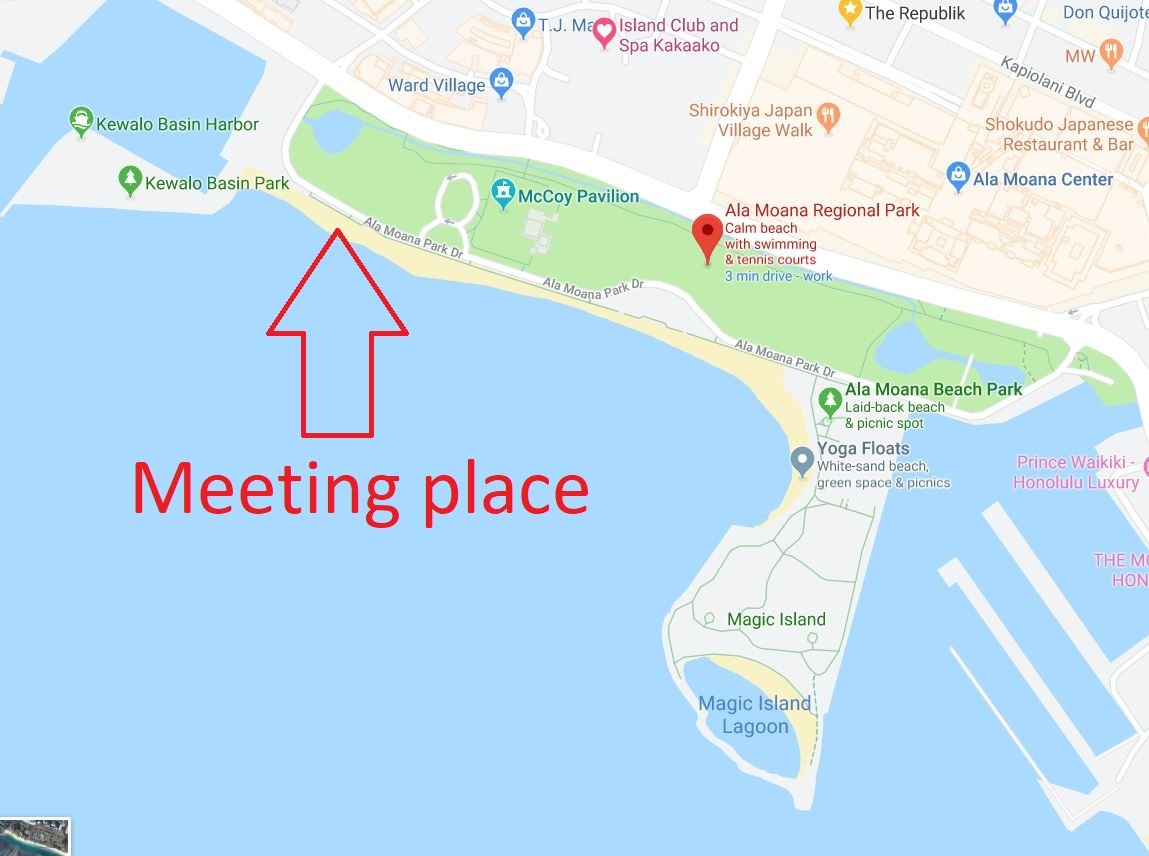 __________________________________________________________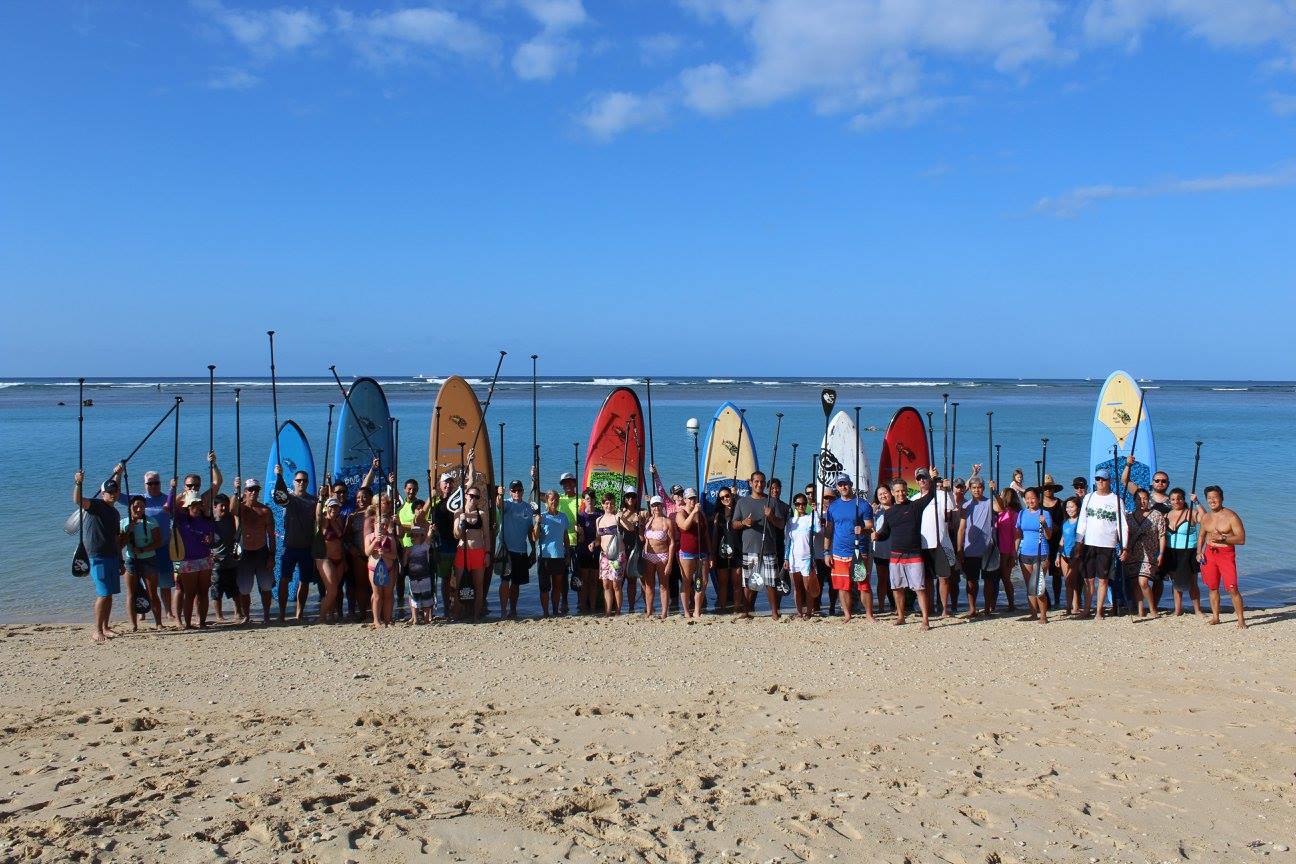 Upcoming Clinic Dates:
Please note: We are no longer offering SUP Clinics until further notice.
Dates are subject to change at any time due to weather/other. On the morning of the clinic, please visit our Facebook and/or Instagram pages to confirm details.
SUP clinics will be held from 8 am to 9:45 am only. We meet at the Ewa end of Ala Moana Beach park, close to the shower at the West end of the beach park. Please reference the map to the left.  Just look for the Blue Planet tent and boards lined up on the beach.
Schedule
8:00 am – Sign up closes at 8am sharp for mandatory safety briefing. You must sign up no later than 8am and attend our safety briefing to participate in the free board demo.
8:00 to 8:25 am – Basic instructions for for all (especially entry level) paddlers and participants.
8:25 to 9:45am – Demo all the available boards you want, ask us anything, we will do our best to help you.  All of our rental boards are available for sale. If you like one, please let our staff know and we can reserve it for you.  We can't sell anything on the beach but we can have it ready for you to pick up at our shop after the clinic.
9:45 – 10:00am – Time to pack up. All boards need to be out of the water by 9:45am at the latest.  If you can, please help us wash off and carry boards to the cars. You are welcome to bring your own paddle (and board) to the clinics.
Most Recent Clinic Video
SUP Clinic Customer Reviews